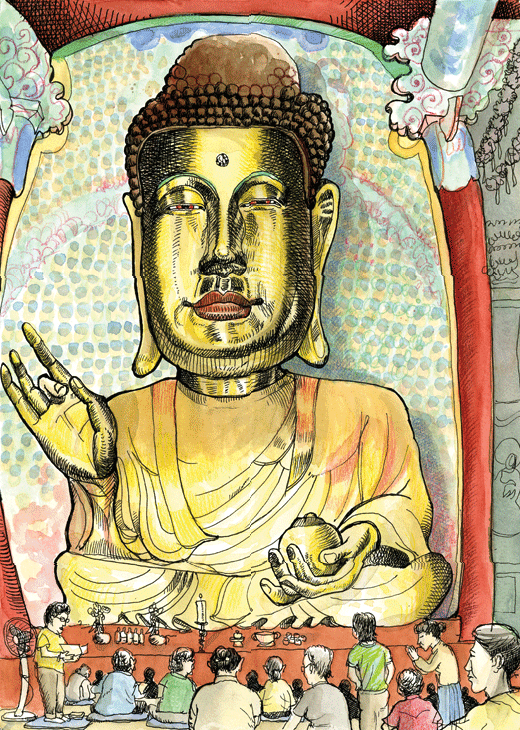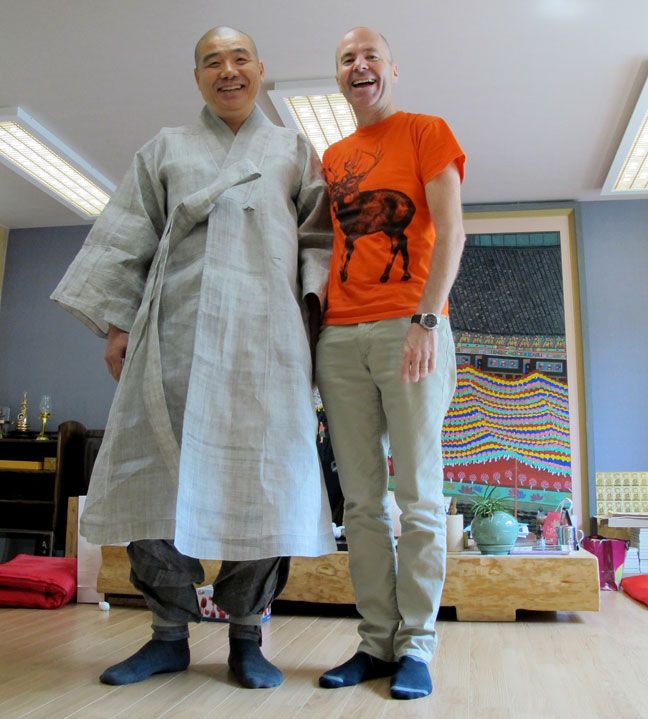 When my wife was a little girl she lived in Korea. One of her favorite things to do was accompany her grandmother to their Buddhist Temple very early in the morning. It would be pre-dawn, completely covered in darkness, with the Temple only lit by candles. The location is in the heart of Seoul. It's named Jogeysa. My wife could have never imagined that almost 4 decades later, her whitey husband would have a most surreal encounter at that exact Temple. I should also mention that my Buddhist mother-in-law's favorite place on earth is Jogeysa. The story I am about to tell is going to make me a hero in her eyes.
Today happens to be my wife's birthday. She checks out my blog everyday to see if I wrote anything new. This is actually a surprise for her. You see, I have not yet told her or my mother-in-law this tale yet. Yun will discover it here today at some point.
On the morning of Tuesday June 26th at 8 AM, I set up my stool and began to do this drawing of one of the 3 large Buddhas inside the Temple. As my sketch began to take shape, people gathered around me. At some point, I noticed I was surrounded by monks. A short time later a Korean guy approached me and introduced himself as Jay. He said the Headmaster of the Temple took notice of what I was doing and wanted to meet me. I said sure. About an hour later a monk presented himself to me. His name was Do-mun. I realized he had been leading the chants to a packed house the entire time I was drawing. He didn't speak English, so Jay translated. The Headmaster asked if I would join him in his office for tea at 2 PM. He wanted to talk to me. How could I refuse.
Over tea, he told me when he first looked over my shoulder and saw my drawing, he just wanted to stay and watch me finish. The problem was, he had to lead the morning prayers for his flock. He said as he began to chant into the microphone, he forgot the words because couldn't get my drawing out of his mind. Do-mun then told me a secret. He confessed he prayed to Buddha the whole time to make me not leave before he had a chance to speak to me. I was a bit shocked but when he revealed his plan for me, I understood why. First came the formalities. He wanted to know about me so I gave him the brief history. "I'm a squirrel who works in advertising. I do stuff for Samsung, that's why I'm in Seoul." Then I told him about Yun as a little girl and all about my mother-in-law's Buddhist antics. He joyfully ate it up. Then he told me about himself and how he ended up as the boss of Jogeysa.
Then he proposed this to me: He wished for me to do a series of drawings for the Temple. These would be merchandized to benefit Jogeysa. They want to make calendars, postcards, t-shirts and what have you. He needed something special to give to dignitaries when they visit. Also he wanted to forge a closer bond with the tourists and people of Seoul to the temple. A marketing campaign if you will. I would be given free reign of the place, day or night. They would even supply me with monks to draw if I'd like. He said there was something about my drawings that gave the Temple a warm, inviting, approachable quality. Do-mun said he would personally escort me to any other Temples I wanted to see in Seoul or anywhere else in Korea for that matter. There was talk of wanting to meet Yun and my mother-in-law and take us all to dinner. The whole episode had such a crazy destiny quality to it. The Headmaster confessed to me that my work actually made him feel greedy. He said he wanted to own all of my drawings and keep them for himself. We laughed about that. I told him I would be delighted to do the drawings for the Temple.
My wife Yun has always been so helpful to my friends and family, with her time and legal advice. I have always been searching for a way to pay her back for all she does. Well my prayers have been answered. As a gift of love to Yun, I promise to make a dozen or so of my greatest drawings ever. In Yun's honor I will give them to my new Buddhist friends.
Happy birthday to Yun.