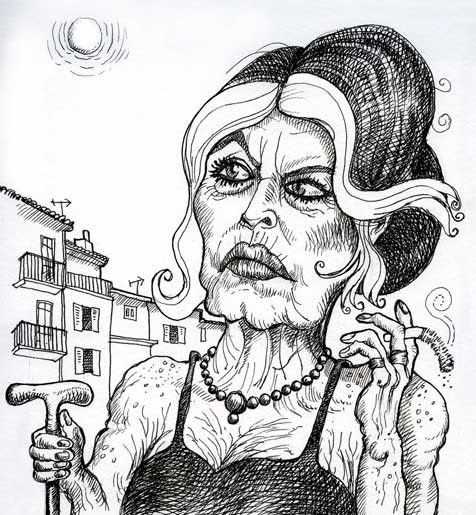 I was contacted by a literary magazine in England called The Quiet Feather. They needed an illustration for a story. I laughed when I read it. A young writer working for a newspaper discovers Bridget Bardot's phone number amongst some old files. For the next 20 years he occasionally dials the number but no one ever answers. His obsession with her grows. Finally he has the opportunity to travel to St. Tropez, the place where she lives. Even though she is very old, he sets out to get a glimpse of her. He discovers a bar where he is told she lives nearby. She even goes there sometimes. His tenaciousness pays off. He finally sees Bardot. He sees her walking with a cane. She is dressed in black. He observes her looking up into the bright sun. He sees the tremendous history of her life in the aging decay of her once beautiful face. I found some shots of her online and used them to make my illustration. I dig how it turned out.
There is a great new blog by my pal Rama Hughes. it's called
The Portrait Party
. It's where artists can go to hook up with other artists to draw each other's portrait. You can draw someone and in return receive a nice portrait of your self to hang on the wall.