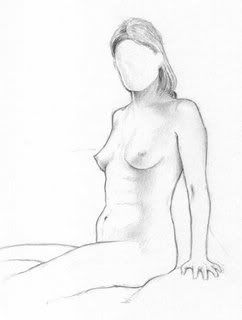 My blog is one year old. This past year I put up over 200 posts. Not bad. That's a lot of drawing. When I first started I didn't really understand the comments portion of blogging. I sort of ignored it. Then I noticed on my friend,
Mattias Adolfsson's
blog that he used it to have a dialogue with people who came to his site. So I began to do the same. I'm a little slow but eventually I get it. I used to always hear from my biggest fan,
Felicity Grace
. There was something very comforting about seeing her comments each day. She became a friend. Lately she hasn't left any comments. Even my wife asked me, "where's Felicity?" Recently I have a new friend.
Ana Banana
, the girl with the great name. I just wanted to give these two very talented artists a shout out on my blog. The drawing on top is Ana's and the one below is by Felicity. Thank you for coming to see my silly blog and leaving your wonderful comments. I appreciate it. I hope you both know I am big fans of yours too.